What is Forniphilia / Human furniture?
Human furniture or Forniphilia is a form of bondage and or sexual objectification in which a persons body is incorporated into items on furniture. Items like trays, foot stools, chairs, tables, lamps or other items of furniture. The term forniphilia was coined by Jeff Gord.
The person used for human furniture may be nude  or semi-nude to add to the erotic and aesthetic appeal. Forniphilia can be an extreme form of bondage, The submissve is usually tightly bound and expected to stay immobile for a prolonged period. Often gags  and sex toys are incorporated. Proper safety measures and checking in with the submissive's well being is vital, because of the dangers that can arise, forniphilia should only be undertaken by a experienced bondage practitioner.
Fotniphilia doesn't always mean using bondage. Having your submissive on all fours as a foot stool  or as a seat, standing and holding drinks.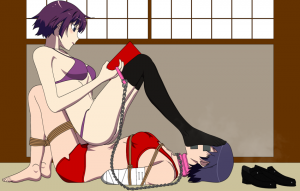 As always S.S.C, P.R.I.C.K, R.A.C.K.